IRATA Membership
IRATA membership involves more than just paying for an annual membership fee. The pride of being able to attach the IRATA membership logo to your company name does come at a monetary cost but demands an all consuming commitment to safety. Here is the process of becoming an IRATA member company:
First, an application is filled out and a preliminary membership fee is charged. This helps cover the first audit stage.
The first audit stage consists of a Desktop Audit. This stage of the audit requires you to submit a completed Audit report form with supporting documentation. We go further into what this looks like below.
Stage two audit requires an Auditor to come visit your location to perform the second half of the audit. Another fee is charged here to cover the costs of the Auditor.
After the stage two audit, you have three months to resolve any non-conformances. An audit report is generated and sent to the audit panel to review.
If you fully pass the two stages of audits, then you receive a Probationary Membership and another invoice for your annual membership.
After 1 year of being a Probationary Member, you will need to go through another full audit again.
Once you pass this audit, you are then considered a Full IRATA Member. As a Full Member, you are required to go through the audit again every three years in order to maintain Full Member status.
What is involved in an IRATA audit?
The purpose of IRATA audits are to ensure rope access companies are operating at the highest level of safety as per IRATA regulations; which are outlined in IRATA's core documents, the ICOP (International Code of Practice) and the TACS (Training, Assessment, Certification Scheme). These documents have been created as a guidance for Rope Access training and work. We won't get into detail everything involved in an audit but some topics include:
All rope access personnel holding current IRATA certifications.
L3 Supervisors must be present at all rope access jobs.
Risk Assessments must be completed prior to all jobs.
Method statements must be completed for all workscopes.
A system of determining whether a job is appropriate for rope access must be defined.
Appropriate team sizes must be adhered to.
Rescue plans must be created prior to all jobs.
Supervisors must be trained and adequately briefed before each job.
Safety meetings must be implemented and recorded each morning to review any new hazards and controls.
Training on site; whether it's for a new workscope, using a piece of rope access equipment, or doing a refresher on rope access maneuvers; must be documented and implemented when needed.
Procedure for mentoring new rope access technicians must be defined and implemented.
Rope access equipment must be maintained and inspected by qualified personnel.
All movement of equipment must be recorded.
All rope access equipment must be traceable and accounted for.
Anchor systems must meet minimum static strengths.
Rigging and rope protection must be defined and implemented prior to all jobs.
Anything involved in creating the rope access system must adhere to double protection. Ex. all anchors and lines are attached independently.
Exclusion zones are defined and maintained.
So when a company decides to make a commitment to becoming an IRATA member company, they are also making the commitment to uphold the safest methods of work at height. This commitment is not a one time instance but one that is ingrained in all company rope access operations and training.
How do you know if you're working with an IRATA member?
The easiest way to know if a Rope Access company is an IRATA member is to have them submit their membership certificate. Or, if you see an IRATA logo attached with a number, as per the image below, then you can be confident that they are an IRATA company. IRATA logos without numbers don't qualify as IRATA members.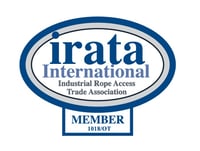 What are the benefits of working with an IRATA member company?
When you work with an IRATA member company, you can rest assured that they have an all encompassing commitment to safety. This ensures your projects are completed in a manner that efficient but also safe. The training given to IRATA technicians follows a strict work based syllabus that delivers highly committed personnel who are determined to deliver safe working. More detail in the training can be found on our TACS page here.
In addition to repeated audits, an IRATA member company is required to submit records of any incidents on site. These statistics are reported quarterly and compiled in an annual Work and Safety Analysis that has been produced for the last 18 years.
Although present in certain industries, Rope Access is still unknown and under utilized in many other industries. A new method of work at height, compared to scaffolding, can seem dangerous or pre-mature. When working with IRATA member companies, you can have confidence that the Rope Access team on site is nothing but professional and safe.
To go back to the IRATA Resource page, where you will find more links on training and safety, click below: