Is your employee ready for an upgrade?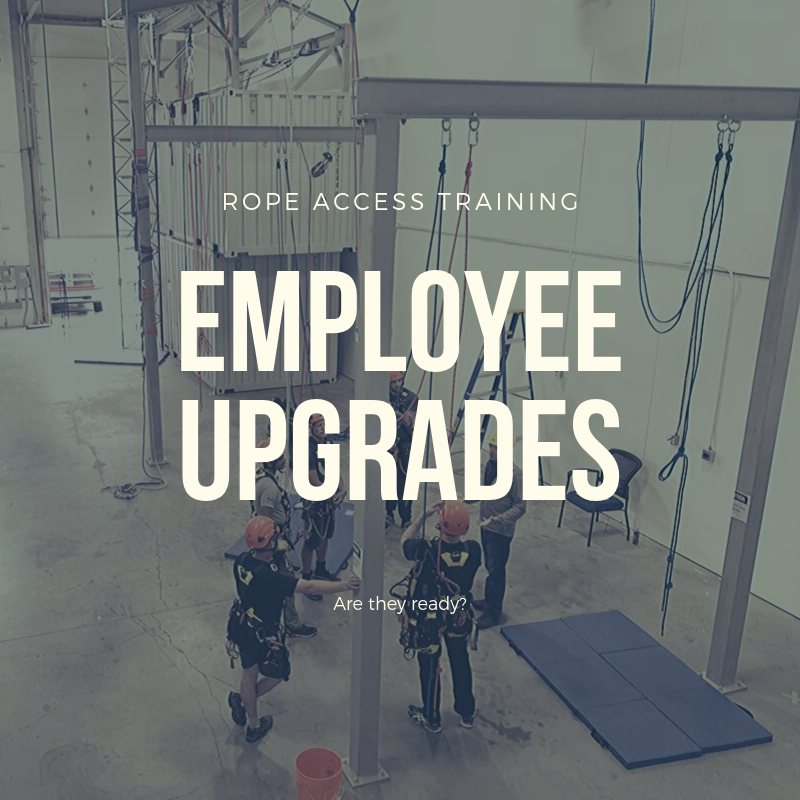 Before registering an employee for their IRATA or SPRAT upgrade, you may want to consider the following questions in order to ensure your employee has their best chance at passing their assessment. Just because they have enough hours and they meet the time requirement doesn't mean they are ready for an upgrade. As you may know, there is a fee for re-assessments. We try to keep this cost as low as possible but it's not ideal for anyone if a student has to come back to re-assess! Ensuring your employee is ready for an upgrade will reduce the changes of having them come back for a re-assessment.
Have they practiced their maneuvers on a regular basis?
Depending on your company and the type of work you do, your employees may not have the opportunity to exercise all the maneuvers and skills expected at their current level. If they work on the same type of structures on a daily basis, they may only really be using a small percentage of all the skills they were taught.
Unfortunately, with prolonged periods of time without practice, your employees will most likely forget how to do simple basic maneuvers and rescues. This comes at a disadvantage when they upgrade because there isn't time to refresh all the skills at their current level. There is a whole new syllabus they need to learn for the next level.
In these situations, we've found that many students struggle because they are so focused on trying to remember their current level that they fall behind on their upgrade training. With only four days of training, this puts a lot of pressure on the student and can be quite demotivating. So what can you do to help your employees be better prepared?
Encourage them to come to our open gym nights. They are free and happen about once a month. This gives them the opportunity to practice rope access skills that they aren't using at work.
Schedule in a refresher. If we have courses going on, your employees can come in for half a day for free to freshen up on their skills with other students who are training. If they want to schedule a private lesson, we can accommodate that as well for a nominal fee.
Have them join our Pacific Ropes Training Partners list. Sometimes, we'll get classes where only 1 person is upgrading while everyone else is new at L1. This is difficult for the person upgrading as they have no classmates to train with. In these scenarios, we'll call individuals on our Training Partners list to come in and train with our current upgrading student. They end up helping a fellow rope tech out and they can get some additional free training!
Is their logbook up to date and filled in correctly?
This is an important one to keep in mind. When it comes to upgrading, students need to prove that they qualify by presenting their logbook to the Assessor or Evaluator. Hours recorded need to be complete with all the required details and a proper signature. If you don't have a L3 in your company to sign off, then you can sign off on their hours as long as you include your name, phone number, and email so that you can be reached for verification. Click here if you need a run down on how to sign your employee's logbooks. A poorly maintained logbook (ex. one that has no signatures, no proper dates, no information on the job or rope access tasks) can result in no assessment for your employee. We've seen Assessors not assess candidates because of a incomplete logbook.
How close are they to the required hours?
If an Assessor or Evaluator questions the validity of some of the hours in a logbook, they may then subtract those hours from the final amount of hours. For example, if your employee has a line in their logbook with 80 hours that is 1 month long, with no signature or description, the Assessor/Evaluator may decide not to count those hours. If your employee has exactly 500 hours needed for let's say a SPRAT L2 upgrade, the Evaluator can minus 80 hours, therefore bringing the total amount of hours to 420. This then disqualifies your employee from doing the evaluation because they now have 420 hours and not 500 hours. To avoid this, it's always good for students to have more than the required hours when they upgrade.
Do they have ambition to advance?
This is a tough one as sometimes deciding who you send to us for an upgrade depends on many other factors related to your company. Upgrading levels is not easy. There are more expectations on the students in terms of their knowledge and skills. We've found that those who don't really care to advance won't put in the effort to be successful. When you're upgrading to a L2 or L3, you're expected to be studying at home and practicing a lot when training. Someone who isn't invested in their upgrade won't put in the extra hours.
For more tips and tricks on upgrading successfully, click below. Feel free to pass this along to any of your employees you think are planning for their upgrade!