Rope Tech Story: Meet our trainer, Don!

Name: Don Gibbons
Rope Tech: Since 2000
Trainer: Since 2012
Assessor: Since 2015
From: Ballater, Scotland
We feel incredibly lucky to have Don Gibbons not only for his extensive training expertise and experience but because he shares our energy, passion, and creativity in bringing Rope Access to the forefront of the at-height community. Here is a little bit more about Don! If you're considering training with us, he will be one of the guys helping you out!
How did you get your start in Rope Access and why?
I was working at a climbing store as a ski tech and on a day off I went climbing with my friend- I'm a big climber. Shortly after we got started this guy came along who was a qualified Rope Access technician. We all got to talking and he explained what Rope Access was and it immediately fascinated me. I couldn't believe that you could get paid to do something that seemed like so much fun! So, in my life at that time, I was at a point where I would either become a mountain guide or I could explore Rope Access and head for the industrial route. I chose Rope Access and haven't looked back since!
To be honest, I wasn't ever that interested in academics or continuing my education in a University setting– that was my brother's path- I am much more of a hands on guy! So, Rope Access was a great match for me immediately.
When I started in Rope Access in Scotland in 2000, I did my IRATA L1 at a very well-known training facility in Edinburgh, The Web, and it was the place to go. I loved it. The community at that time was made up of primarily climbers and cavers and having a climbing background, I was quite a natural at grasping the techniques and I fit right in to the community. My trainer was awesome and I knew right away that I wanted to eventually instruct. I have always had a passion for sharing knowledge and helping people better themselves- Rope Access instructing is a great to do that.

What was your career in Rope Access like before you started instructing full-time?
My career in Rope Access began in 2000. In terms of working on rope, which I did for over ten years, I really benefited from the oil and gas industry in Scotland. It was a huge Industry in Scotland for several years, and now, wind turbines are becoming yet another huge offshore market for Rope Access techs. Without a doubt, rope rigging became my forte right away because it is so hands on.
I have had hundreds of offshore jobs. The lifestyle of working offshore worked really well for my personality and preferred way of living at the time. I loved the money and time off, and so between 2000-2010 I jumped between jobs. So, I have massively used Rope Access to travel. That's the brilliant part about IRATA certification. It was nice change of scenery. I traveled from Scotland, to Bangladesh, Africa (Algeria), East Timor, Russia, Australia, New Zealand, Canada, Norway, Europe. Because I was working once there, all of my travel expenses were paid for.
So I could work the summers and take winters off and do what I want to do! Good livin'! And I did it for quite some time happily.

When did you make the transition to become a Trainer?
In 2012 I decided to transition into training. I was tired of living out of bags, wanted to get out of the oil rig environment and I needed an exit plan. I started working for TRAC (http://tractraining.com/), they did in house training in Scotland and started to help me learn to become a trainer. I quickly became amped about pushing courses. TRAC has a huge facility in Glasgow and the opportunity to work there was tremendous. I worked for free for some time and then they offered me full time job and that's when it all really started as far as training in concerned. I was there for 4 years prior to coming here and made a lot of great strides.
What is the most common question your friends ask you when they want to know 'what do you do?'
"What's that!?" And once I explain it, "Sounds cool!" Bizarrely, as seems to be the case with many techs in Canada, I don't get asked if it is dangerous.
Are there any characteristics of a person who would make a great rope tech in your opinion—I mean, heights are not for everyone!
Yes, several. Some of which are dependent on the kind of environments you chose to work in and apply Rope Access.
Primarily I would say:
A good and healthy head for heights

In my experience, the offshore guys quite often get scared looking through the grates they walk on. So, having a confident and strong mind for heights is a must in many of our work environments.

Having a certain level of physical fitness—core strength is vital, a strong back and abs is certainly helpful to successfully achieving many techniques.

I would also argue having a good sense of humor is key to the work environment, although what we do is very serious. In the offshore industry I came from, it was like sea jail, you have to have pretty thick skin. You have to have good banter and a positive attitude. Because we all share close accommodations and two person cabins, sometimes even 4 person cabins, you have to be able to have a good attitude with everyone.

Being up for a laugh. I've seen guys who struggle with having to stay on remote sites. I mean, realistically, in the 60's and 70's it was guys who came from jail due to the environmental likeness into offshore spaces. So, again, having that ability to adjust to small quarters, away from friends and family, is key in many of our work environments. If you have a poor attitude, I have seen guys produce less than perfect results. So, have a good attitude, do good work.

Ability to communicate and work well within a team. It's a part of our Rope Access system, it is mandatory to our work sites.

Having a hunger to want to consistently improve yourself and learn- this one is key- as Rope Access is always changing as an industry, and if you want to move up your certification levels, you have to be hungry to make the time to organize and really want that.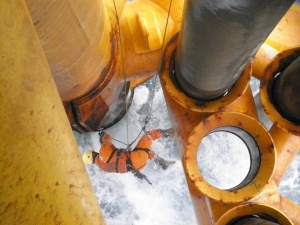 What's your favorite part of being on a job site?
No two jobs were the same. It was always a different series of problems to solve. There was a lot of diversity experientially. This kind of diversity goes back to a technician's ability to keep learning and always being ready and excited to adapt a new work environment.


Biggest piece of advice for someone thinking about getting their Level 1 IRATA/SPRAT?
DO IT! If you're looking for something different, if you aren't an office worker, if you like using your hands and be part of an exciting, growing industry, Rope Access is a good fit for you.

Where do you see the future of your trade in Rope Access in Scotland and in Canada?
It will always be in Scotland. Although the oil and gas side of things has chilled out it is still employing people and the wind energy economy is really kicking off. The Geo-technical industry, hydro, window washers, telecom, and even rock concert teams are always grasping Rope Access as a way to achieve certain ends.
It is much different in Canada. Canada has a long way to go to catch up to Europe in my opinion. And that's exciting. The hold-up is strange. I still can't understand why, but it seems like Canada is stuck in a kind of old school mentality. You have to grow, improve, and innovate, and make everything safer. Like the Bosun chair, you never even see that in Scotland anymore. So, introducing Rope Access and its 3 dimensionality, diversity in application, and of course, it built in safety system is something that is really exciting some of the young people coming up. These components are key to get them involved as well as people who have been in the at-height community for some time. I always think it's 2016, ya know! Let's get Rope Access going!

What is the greatest challenge you face as a trainer?
Probably making sure that I stay on top of being a great rope tech- not just a trainer. So, for instance, just because I am an L3 I still have to be confident in my rope skills. I am at time faced with the sharp realization that I have to stay up-to-date on any theoretical changes within Rope Access, any and all procedures, applications, and changes to the ICOP. These can tend to be the least fun elements of my job, but they are essential to keep up on for excellent training.

What is the biggest thing you want to tell people about Rope Access training and work?
You have to want to do it. It is an inspiring job, but you have to really want it and be excited to grow, learn and change within the industry. Innovative work trends are heading this way (Canada) and it is an awesome time to start in its infancy. In BC especially.

What continues to inspire your life as someone who has given their professional life to rope access?
I get a lot of satisfaction out of helping make people better- get their careers started, develop their skills and bring confidence into their life. I get a huge kick out of seeing the guys and girls faces when they graduate from a level of certification. I still remember when I met this one guy in Scotland, he very clearly lacked self-confidence, and the difference in his character after the 4 days of training was incredible. So much more confidence and that's what keeps me in this industry!
On those bad weeks, where I struggle to change minds and convince people of the Rope Access system, I am always inspired by remembering people like that guy in Scotland.

What excites you about being here in Canada now as a trainer?
Having the opportunity to grow Rope Access in BC. I'm just happy to be here and live an awesome life with my dog.

What was your favorite work site?
A major rigging job we did in Melbourne, Australia for the Commonwealth Games in 2006. We worked on the MCG Stadium and had to rig up a huge floating hub and tram for the opening ceremonies- Trams are a major thing in Australia. It was an incredible experience and a really interesting job. We got a free tickets to the Commonwealth Games and that was a huge bonus! Watching what we had rigged for and then during the opening ceremonies was awesome.
Check out the stadium!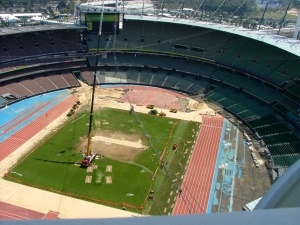 So, that's Don! Thanks very much for reading and we hope you'll come to Pacific Ropes to meet him and his dog Kiedis for yourself! Look how happy he is!!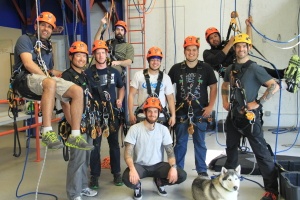 For more stories on other rope techs, click below!