IRATA OR SPRAT
IRATA or SPRAT? Which certification is right for me? This is a good question to ask and we'll try to keep our answer simple enough to help you make a decision!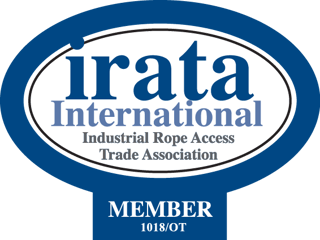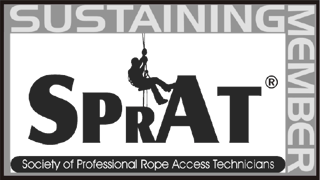 Let's start with a brief history of each association. IRATA (Industrial Rope Access Trade Association) is based in the UK and it remains the world's longest standing Rope Access association to date. IRATA is undoubtedly considered the most well-established Rope Access body internationally with over 350 member companies around the world
(and counting!). The IRATA system is also distinctly known for its rigorous technical audit for their operating members, which ensures the IRATA standard of quality assurance/quality control among its members (operators/training facilities).
SPRAT operates according to a different system of membership altogether. Although today a SPRAT ticket is increasingly gaining global recognition and membership, SPRAT certification is still principally recognized in North America.
As far as operating and training membership is concerned, SPRAT is not a technically audited association and its membership requirements are much less scrupulous (in fact there is no comparison here). This has worked to grow SPRAT'S number of member companies abroad and with that broadened the employment opportunities for Rope Access technicians internationally; however, without compulsory audits, Rope Access practice is not guaranteed in any uniform sense across job sites and member companies.
As a company, you only need to refer to your local regulations to determine if you can hire SPRAT or IRATA certified employees or if you are bound to just one. Another element is to determine what your clients/industry prefer as well.
If you're considering getting a rope access certification, we've outlined a few questions to ask yourself that may help you make that decision.
Where do I want to work?
If you plan on travelling and working abroad, IRATA will help you get there. IRATA is recognized globally, which will help you get your foot in the door with companies worldwide. SPRAT is recongized mainly in North America.
Who do I want to work for?
Which employers are you trying to get in with? What industry are you working in? Do some research as some industries cater to one certification over another while others don't care. For example, oil and gas require IRATA only whereas building maintenance or wind energy are indifferent. Bridge engineering in the states are all about SPRAT! Keep in mind that if you want to work for an IRATA member company, they can only hire techs with IRATA certifications. Whereas if you work for a SPRAT member company, they will take both IRATA or SPRAT.
What are my career goals?
Is rope access just a side certification that you need for a certain job or do you plan on taking a more active role in it as move forward with your career? Rope access certification is available in three levels. This is for both IRATA and SPRAT. At a level 1, you can learn how to operate yourself in a rope access system, which allows you to access a certain area to perform whatever work you'll be doing. As you advance up to level 2 and level 3, you are trained to complete more complex rigging and rescue scenarios. By the time you're at level 3, you are able to manage and run a rope access team on any site. If anything happens to your team, you have the ability to implement a rescue scenario. So, knowing this, is this something you want to add to your skills and responsibilities? Or, are you okay with focusing on your main job?
Why does this matter? Because there is a difference between IRATA and SPRAT on how fast you can move up levels.
IRATA requires you to have 1000 rope hours and at least 1 year of work experience before upgrading while SPRAT requires 500 rope hours and 6 months of work experience.
Other than these main questions, the IRATA and SPRAT cirriculum are similar in terms of what you will learn. We've broken down the syllabus of each one and highlighted the differences to give you an idea. At the end of the day though, the levels between both are synchronous.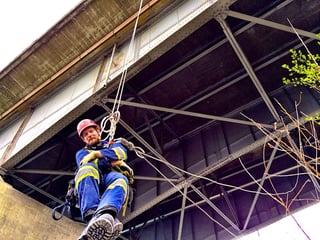 LEVEL 1 IRATA ASSESSMENT
Equipment use and inspection

Back-up devices handling

Ascent

Descent

Changeovers

Decent using ascenders

Ascent using descender

Use of work seats

Passing knots

Rope-to-rope transfer

Deviations (redirect)

Re-belays

Edge obstruction at top (Negotiating an edge)




Passing mid-rope protection

Basic anchor system

Pick-off (casualty descending)

Climbing with fall arrest lanyards

AID CLIMBING USING FIXED ANCHORS
AID CLIMBING USING MOBILE ANCHORS
LEVEL 1 SPRAT EVALUATION:
Equipment use and inspection

Back-up device handling

Ascent

Descent

Changeovers

Descent using ascenders

Ascent using descender

Use of work seats

Passing knots

Rope-to-Rope transfer

Deviation (redirect)

Re-belays

Negotiate Edge

Install/pass rope protection

Simple structural anchor

Pick-Off (casualty descending)

Climbing with fall arrest lanyards

BELAYING W/COMMUNICATION
LOWERING
LEVEL 2 IRATA ASSESSMENT
Load sharing anchors (Y hangs)

Pull through anchors

HANGING HAUL (EXTRA ROPE)
CROSS HAULING

Pick-off (Casualty ascending)

TENSIONED ROPES
WORK RESTRAINT/HORIZONTAL LIFELINES
SMALL REBELAY RESCUE
ROPE-TO-ROPE TRANSFER RESCUE
RESCUE FROM AID TRAVERSE
RESCUE THROUGH DEVIATION
LEVEL 2 SPRAT EVALUATION:
Load sharing anchors (Y hangs)

Pull through anchors

RESCUE HAULING: PITCH HEAD
CROSS HAULING (TEAM EXERCISE)

Pick-off (causality ascending)

AID CLIMBING (IRATA 1)
FRICTION HITCHES
LEVEL 3 IRATA ASSESSMENT
Risk assessments

Methods statement

Team rescues

Tensioned Ropes Rescue through large re-belay

Rescue descent passing ropes

BREAKING INTO A TIGHT ROPE
SHORT LINK RESCUE
LEVEL 3 SPRAT EVALUATION
RESCUE FROM AID (IRATA 2)
RESCUE PAST DEVIATION (IRATA 2)

Job safety analysis

Management and communication

Team rescue/Work scenario

Tensioned lines

Rescue through re-belay

Rescue Decent passing knots

ANCHORS PRE-RIGGED TO LOWER
MECHANICAL ANCHOR SYSTEM
Keeping all of this in mind, when you chose IRATA certification, you open yourself up to diverse (and arguably more) global job opportunity, hiring compliance with all IRATA operators, and you represent a longstanding history of superlative safety practice. You are also required to have more hours on rope by the time you are an L3, so some may argue that IRATA technicians typically have more hours and therefore more experience on rope. An investment in IRATA is truly an investment in becoming a member of the comprehensive IRATA system, with the added benefit of being qualified to work for a SPRAT member company as well. SPRAT offers you a similar certification process, but with fewer hours required of you to work through to the 3 Level certification system and with hiring exclusivity within the SPRAT system only. Job opportunity for SPRAT graduates is growing globally but you will not qualify to work for IRATA operating companies.
From the perspective of Pacific Ropes, taking the dual certification option opens you up to the greatest amount of career opportunity and Rope Access expertise. It gives you geographic freedom, employment flexibility, and technical competency in both systems.
If this is not an option for you, just be sure to do some leg work and research what career path you wish to take in Rope Access and which certification system is required of you. At the end of the day, both are excellent choices and carry great integrity and safety records within their associations.
Ready to learn more about your choices? Check out our training pages!