How To Fill Your Logbook Successfully
A logbook is issued to you once you've successfully passed your IRATA L1 assessment or SPRAT L1 evaluation. It will have a unique serial number, which is different from your IRATA or SPRAT certification number, and your photo, which you will have to sign. You only get one logbook for your rope access career so make sure you take care of this document! It's just as important as your certification and ID card. Why is this important you ask?
The logbook is your official documentation for your rope hours, your training, and type of work. As you'll learn in class, you will need a certain amount of hours before progressing up to the next level for rope access. If you're already a seasoned rope tech reading this, then you'll know how important a well-maintained logbook is during assessment and training. Your logbooks get checked first and if they are not up to standard or incomplete, you cannot be considered for an assessment. Your logbooks will also record any future assessments that you undertake.
Maintaining your logbook correctly isn't that hard to do. Sure, it might take an extra few minutes after a long day on the ropes. But, better that than scrambling last minute during your training week to find signatures, remember job site details, etc. Trying to get that sorted out while you should be focused on your training is definitely not the best way to start out your training.
Below, we've illustrated an example of how to properly fill out your logbook.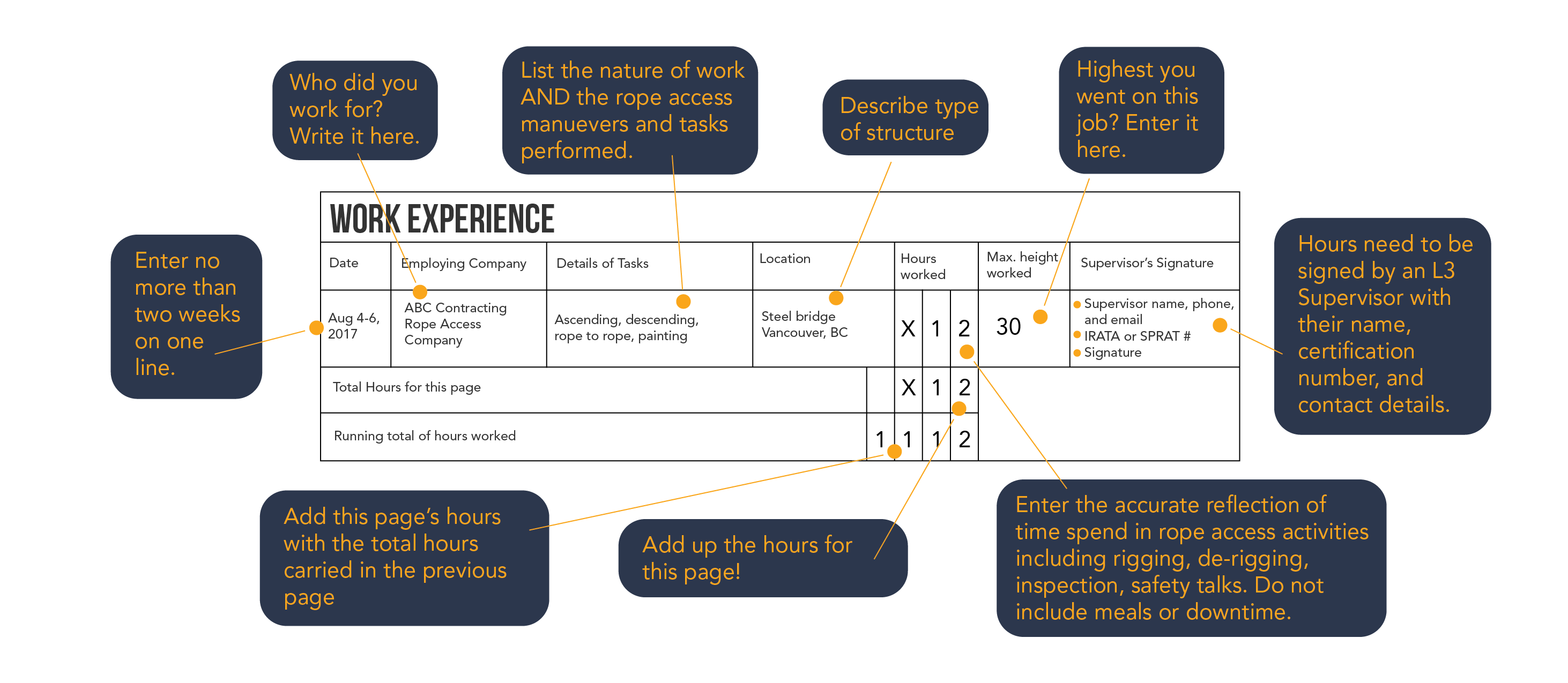 Things you should do:
(Hey, we're not your guardians so we can't tell you what to do. But, from our experience, doing this will make your life easier!)
Write down your logbook entries as soon as possible after the end of each logged period.
Each logged period cannot exceed more than 2 weeks.
Write down your entries in blue or black ink. If you use pencil, it'll rub off.
Take photos of your logbook in the unlikely event your logbook gets stolen from your car, lost on site, or whatever! This will make things much easier when you have to get a replacement logbook.
If you have any further questions, get in touch with us!